5 Reasons to Buy a Murphy Bed from BredaBeds Over a Big-Box Store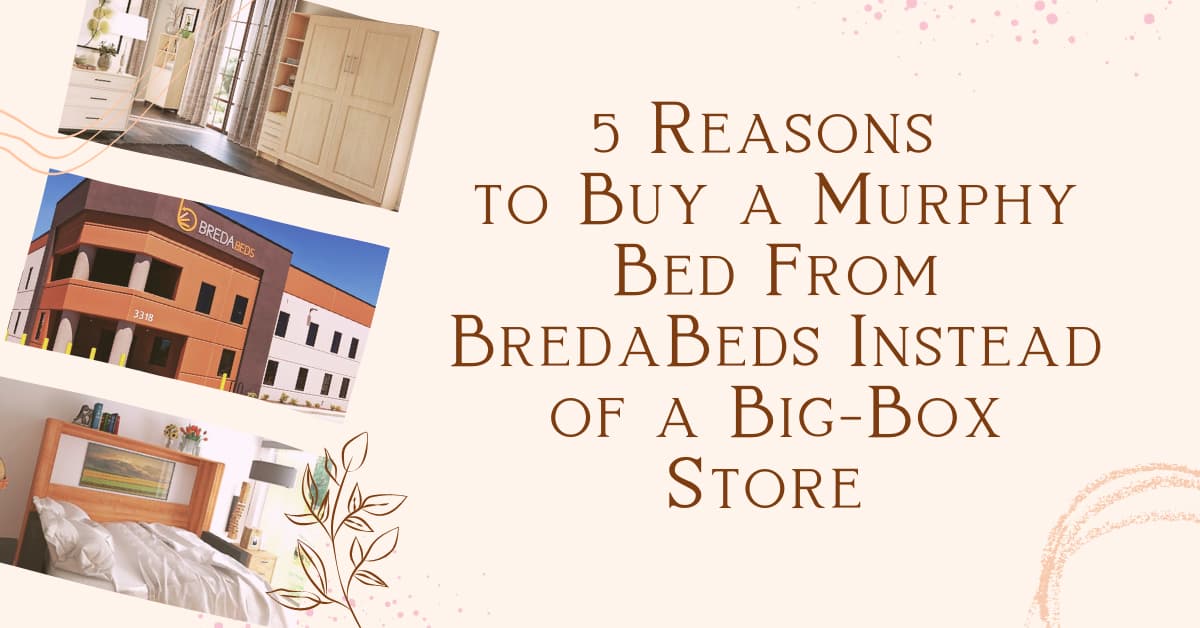 Today, more than ever, people are constantly looking for ways to maximize their space. Whether you are looking to turn a guest room into a home office, maximize space for your AirBnB, or looking for a new bed for your studio apartment, one of the best ways to do this is by investing in a Murphy bed by BredaBeds. BredaBeds is a family-owned and operated business located in southwest Idaho. Here are some of the benefits of buying from BredaBeds over big-box stores:
Customization:

When you buy from BredaBeds, you have the option to customize your bed to your specific needs. You can choose the size, orientation, and color of your bed, as well as many additional features you may want, such as a light kit, hutches, and hardware finish. This level of customization is not typically available at big-box stores, which often offers a limited selection of Murphy beds that may not meet your needs or match your aesthetic.

Quality:

BredaBeds is a family-owned business that takes pride in the quality of our products. Using high-quality materials and construction methods, BredaBeds ensures that your Murphy bed is durable and long-lasting. Unlike big-box stores that often prioritize low prices over quality by using thinner and less durable material, BredaBeds is committed to creating furniture that will stand the test of time.

Customer Service:

When you buy from BredaBeds, you're not just purchasing a product, you're also gaining access to our exceptional customer service. BredaBeds' customer service representatives are knowledgeable and helpful, and are available to answer any questions you may have 7 days a week. From assistance in designing your dream bed to support with installation, our customer service team is available every step of the way.

Made in the USA:

All BredaBeds Murphy beds and sofas are designed and manufactured in southwest Idaho. This means that when you buy from BredaBeds, you're supporting American jobs and the local economy. Additionally, buying American-made products often means you're getting a higher-quality product, as American manufacturing standards are amongst the highest in the world.

Eco-Friendly:

BredaBeds is committed to being eco-friendly, using renewable sources, and utlilizing sustainable materials and production methods whenever possible. Our composite panels are certified by a third party to source 100% recycled and/or recovered wood fiber material and are certified to meet the requirements of the Eco-Certified Composite (ECC) Sustainability Standard CPA 4-11. This means that when you buy from BredaBeds, you're not only getting a high-quality product, but you're also making a positive impact on the environment.
By choosing to shop from BredaBeds, you're making a personal connection with the people who make and sell your Murphy bed. This level of personal connection is often lacking when shopping at big-box stores, where you're just another customer in a sea of many. BredaBeds' commitment to customization, quality, customer service, American manufacturing, and eco-friendliness sets us apart from big-box stores and ensures that you're getting a product that will meet your needs and will last for years to come.