Create a Cozy Guest Room with BredaBeds®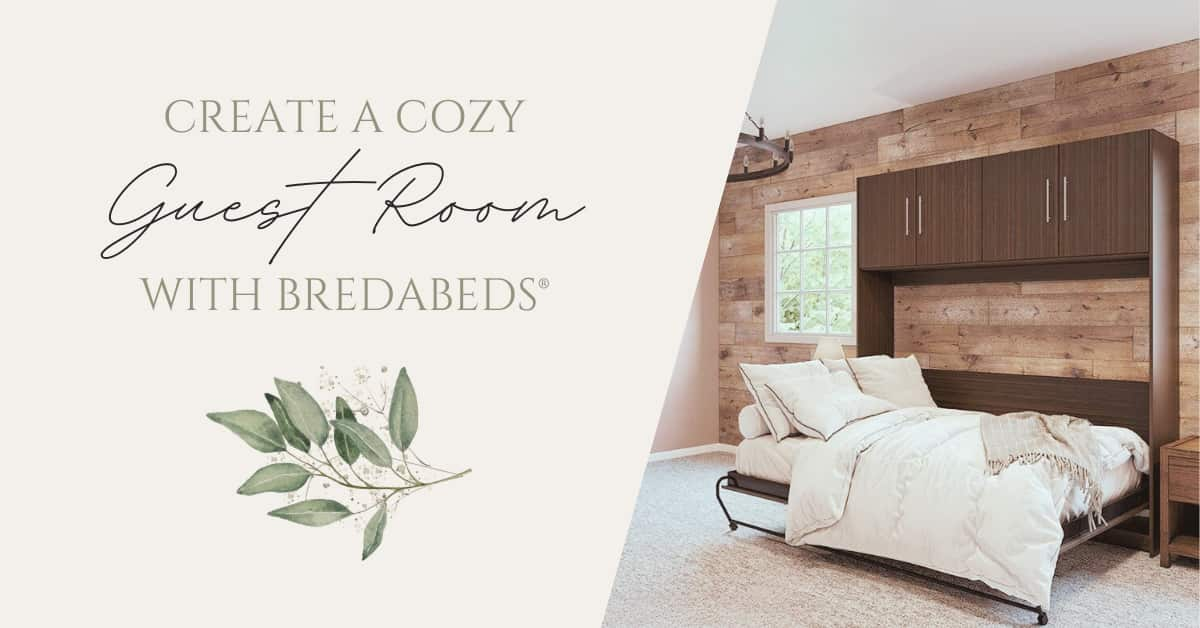 Welcoming guests into your home can be a wonderful experience, but creating a comfortable and inviting guest room can be a challenge, especially if you don't have a lot of space. Fortunately, a Murphy bed by BredaBeds® can be a great solution to this problem. Keep reading for tips and ideas for creating a cozy and inviting room for your guests.
Choose The Right BredaBed
The first step in creating a cozy guest room with a Murphy bed is choosing the right one. BredaBeds® offers 5 different collections, in a variety of colors, to help you find the Murphy bed that will go perfect in your space. There are many different types of Murphy beds available, including horizontal and vertical models, as well as models with built-in storage. Consider the size of your room and the needs of your guests when choosing a Murphy bed.
Make Sure The Mattress And Bedding Are Comfortable
Once you've chosen your BredaBed, the next step is to choose a comfortable mattress and bedding. Our GelMax mattress is a luxury memory foam mattress that will provide your guests with the ultimate sleep experience, while the removable cover makes washing a breeze. Guests will also appreciate high-quality sheets, blankets, and pillows that provide a cozy and comfortable sleeping experience. Make sure to choose bedding that is appropriate for the season, and consider providing extra blankets or a throw for chilly nights.
Incorporate Personal Touches
One of the best ways to create a cozy guest room is to incorporate personal touches. This can include things like family photos, artwork, or other items that reflect your personal style and interests. Adding a side hutch, or two, with open shelving will give you plenty of space to display books or magazines for your guests to read. Don't forget to provide a small welcome basket with snacks and toiletries.
Maximize Storage Space
In a small guest room, it's important to maximize storage space so your guests have room to store their belongings. To provide your guests with additional storage you may consider adding a side hutch to your Murphy bed. Additionally, selecting a Murphy bed model with wardrobe depth side hutches will provide your guests with extra space to hang their clothes. If the Murphy bed you choose doesn't include built-in storage, consider adding a small dresser or wardrobe to the room.
Provide Lighting Options
Having a variety of lighting options is important in any guest room. Adding a BredaBed Light Kit to your bed can elevate the look of your bed and provide convenient lighting. An easy-to-use wireless remote allows guests to turn the lights on/off without having to leave the comfort of their bed.
Add Cozy Accents
Finally, don't forget to add cozy accents to the room to make it feel warm and inviting. This can include things like throw pillows, blankets, and area rugs. Consider choosing warm, natural colors like beige or brown, or go for a pop of color with a bright accent pillow.
Creating a cozy guest room with a Murphy bed by BredaBeds® is easier than you might think. By choosing the right bed, providing a comfortable mattress and bedding, incorporating personal touches, maximizing storage space, providing lighting options, and adding cozy accents, you can create a home away from home for your guests. With a little creativity and attention to detail, your guests will feel welcomed and comfortable in their cozy guest room.