Murphy Bed Assembly Instructions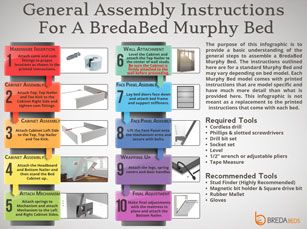 Click on the infographic to the left to view the ten general steps to assemble a BredaBed Murphy Bed. Each bed model comes with printed instructions that are model specific and have much more detail than what is provided in the general steps. The printed Murphy Bed assembly instructions are full of helpful tips that will guide you through a successful assembly.
In addition to printed Murphy Bed installation instructions that are delivered with each Murphy Bed, we also provide video instructions. In the video below, we show you how to assemble a Penthouse Murphy Bed w/ 2 side hutches configured with drawers and doors. Use the time links below to jump to a particular chapter. This video is meant to supplement the printed instructions that were provided with your BredaBed. You can also watch this Murphy Bed installation video directly on YouTube.
If, at any point during the assembly process, you need assistance that's not available in either the printed instructions or the video, we strongly encourage you to contact us, and one of our expert assemblers will guide you through any problems.
Not comfortable doing the assembly yourself? We recommend finding a handyman in your area through one of the following resources: Thumbtack, Handy, The United Assemblers Network directory, Google, Bing, Craigslist, or contact us, and we may have an installer in your area that we've worked with in the past. PLEASE NOTE: These are resource links only and not a recommendation or endorsement by BredaBeds as to the quality or workmanship of installers found through these websites. We now offer Murphy Bed installation in select areas, click here to find out if assembly is available in your area.
Required Tools
Cordless drill or driver
Phillips screwdriver
Drill bit set
Socket set
Level
Adjustable wrench
Tape Measure
Stud Finder
#2 and #3 Phillips bit
Rubber Mallet
Recommended Tools
Gloves
Ladder or step stool
Stubby/short Phillips screwdriver (InLine Collection Murphy Beds)