Welcome to our company
First let's tell a bit of history...
Our family based business was formed in 1993, fabricating and installing solid surface countertops. Over the next few years, we expanded our operations as our 3 sons joined the business. Late in 2001, we began looking into more efficient ways to fabricate our countertops. We purchased our first CNC router in early 2003 and a digital templating system later that year. Our expansion continued and in 2006 we moved into our current location.
Having extra space for equipment we decided to diversify our product offering and purchased a membrane press for manufacturing 3D laminate cabinet doors. In early 2007, we began marketing these products under the "Breda" name. As we marketed our doors to businesses we were met with requests for closet parts and Murphy Beds. To fulfill this need we developed our own "closet system" and designed our Bredabeds line, initially selling wholesale to the trade.
Early in 2008, business was expanding to the point we added an additional, larger CNC router for cutting the component parts. Today, Breda manufactures a wide range of products and now offers murphy beds for sale to the public at wholesale pricing.
Brad Wilson- President of Breda Inc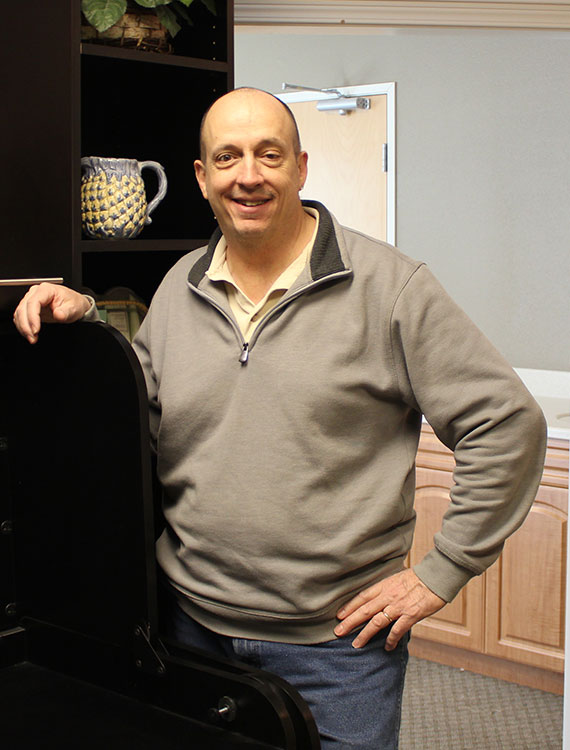 what we do, what we are
Our mission
BREDA, INC. is a family owned and operated business located in southwest Idaho. We sell space saving Murphy Beds that we design and manufacture here in our shop. BREDA, INC. advertises and sells these beds, primarily, to customers all over the United States.
Our family enjoys working together each and every day and is grateful for the opportunity to do so. We support each other and do whatever is necessary to provide our customers with what we have promised to deliver. We seek value for purchases we make in our own lives and we strive to provide that with the products we sell, as well.
Investing in the latest in technology and equipment automation allows us to produce a quality product at a fair and competitive price. We continually look for ways to improve ourselves and our products. We sincerely appreciate the opportunity to serve you.