Everyone here at BredaBeds is happy to announce our most recent addition to our product lineup: The Studio Collection, our most customizable Murphy Bed to date. Unique colors, endless design options and maximum space efficiency; these are just some of the new features of this amazing product.
Customization
Whether you're an interior designer or you want to unleash the inner designer in yourself, no other Murphy Bed offers more flexibility and customization. The unit allows over 8,000 different configurations based on bed sizes, color and hutch options. This is the only pull-down wall bed we offer which allows the main bed cabinet to be customized in a different color than the hutches, giving this unit a striking appearance with emboldened lines. Each hutch can be configured independently, eg: open shelving on one side, but doors on the other. As with our other products, this new murphy bed comes with available lighting options. So not only will it look great in the daytime, but it will look fabulous at night too! We have 3 hardware finishes to choose from, so you'll be able to match other hardware in the room (such as light fixtures and doorknobs). We can also customize the baseboard notch so the bed will fit perfectly against the wall without the need to make further customizations. Each hutch comes with a wardrobe rod, one fixed shelf and three adjustable shelves, but can be further customized with doors and drawers as options, click on the image below to view detailed hutch customization.

New Textured Colors
We've chosen the Studio Collection to launch our brand new 2016 textured melamine color selection, which gives a textured feel to the material as you run your hand across the surface. As you can see in the images below, the material has a light texture, reflecting light differently in the highlights and shadows. The Studio Collection offers these textured colors standard on both the main bed cabinet as well as on the hutches.
Space Efficiency
The most customizable Murphy Bed is also the most space-saving Murphy Bed, allowing the hutches to be used for hanging clothes and convenient storage, but without increasing the projection from wall in the open position. This means the bed will fit in a tighter space without sacrificing usability. Available in Twin, Twin-XL, Full, Queen and King so you'll be able to find the perfect bed for your space.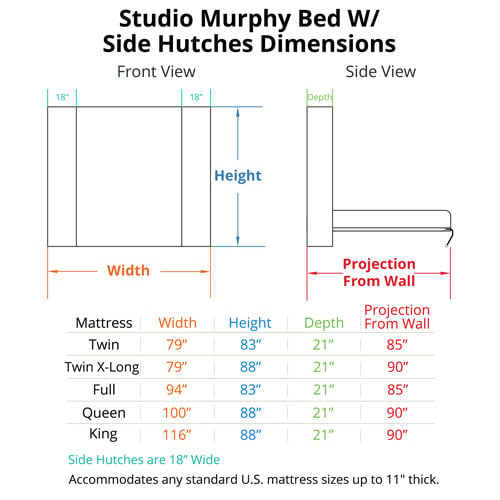 We look forward to hearing your comments and opinion on the new product, as well as ideas for future products. If you have any questions, let us know in the comments below or by
contacting us
either by phone, email or the live chat feature on our website, when available.