It's an age-old question for college students and space-conscious families alike: Should you choose a futon or a wall bed, and why? Below, we discuss some of the pros and cons of both options and how to choose which ones is best for you!
Whether you just purchased your first house and want some modern furniture, need a convenient space-saving option for college, or want space for your inner-city lifestyle, a lot of pressure is placed on finding the right sleeping option for you.
Although there are plenty of options on the market, two of the most popular options for the modern household are the wall bed and the futon. Whether it be due to their versatility or their ability to save space, these bed options are perfect for someone looking for a modern approach to an old necessity.
However, when deciding which option to go with, you may be asking yourself what the difference truly is and how to choose the best one for you. Below, we'll go over some of the pros and cons of both modern bed styles so as to help you make a decision that suits you and your lifestyle for years to come.

The Pros and Cons of Futons
One of the pros of the futon mattress is its overall low cost. Because it is both a couch and a bed, it is fairly cost-effective. However, the issue with this is that many futons are low-quality material-wise. This is why you should absolutely take time looking into various brands before making a decision.
Furthermore, another pro to the futon is that it is easy to clean and maintain which is wonderful for people looking to only use it for guests or day sleeping. It is also compact meaning it fits in small apartments and rooms and also saves you space by functioning as both a bed and a couch.
The major cons to the futon are both its material and size as well as its comfort level. Unfortunately, most futons are equipped with low-quality materials making them fairly uncomfortable as both a bed as well as a couch. On top of this, the quality of the material means it is more likely to wear quicker than other options on the market. On top of this, because of its small size and uncomfortable sleeping materials, many studies have shown that futons damage your back over time which is obviously something a conscious consumer doesn't hope to encounter.
In the end, the futon is a great option for someone with a small amount of money not looking for anything fancy. This product is more about affordability than quality which makes it wonderful for dorm rooms but not so much for people looking to get a quality night's rest. However, before you decide, let's take a look at the pros and cons of the wall bed in comparison to make a fully educated decision.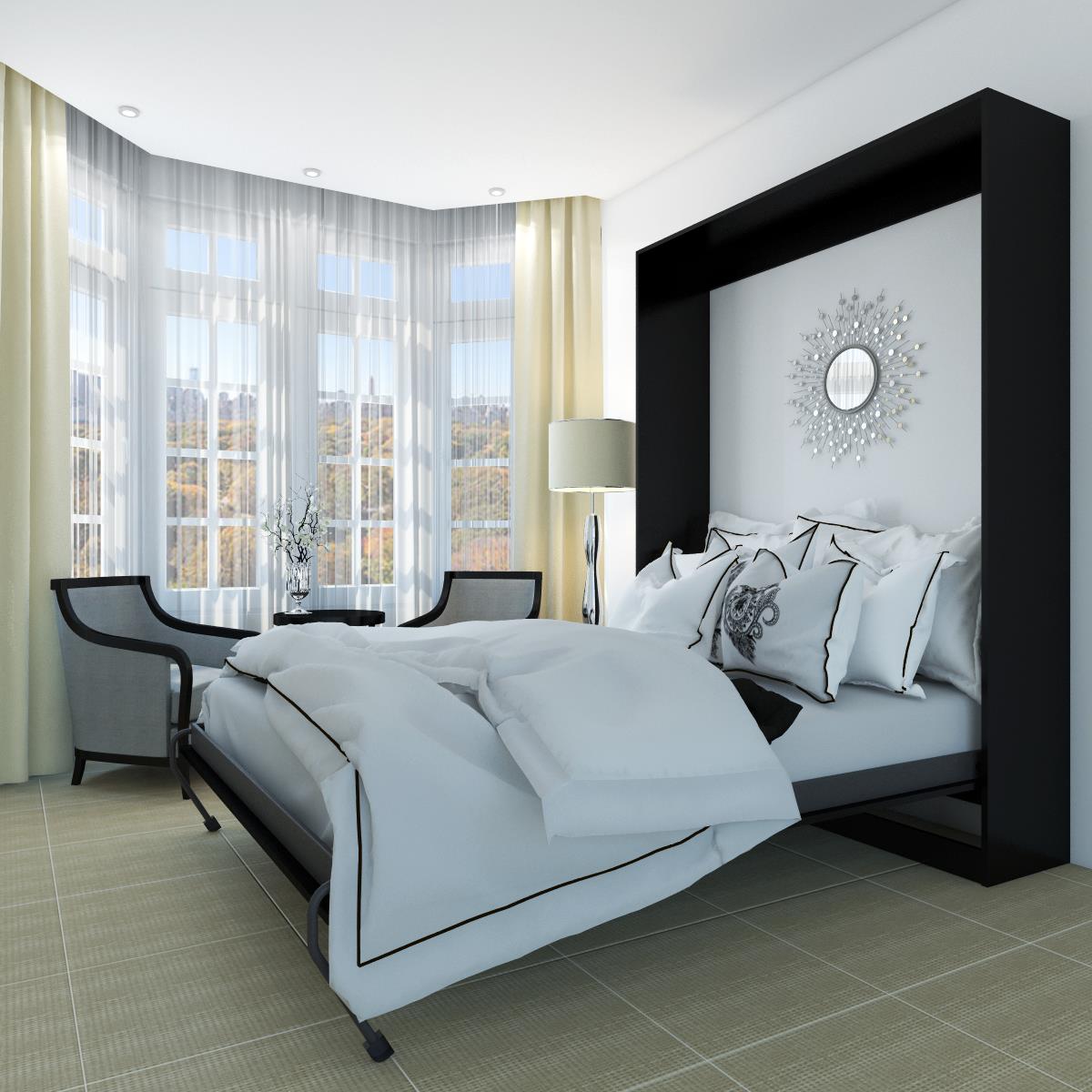 The Pros and Cons of Wall Beds
Although the futon is a good option for people looking for affordability over longevity, one of the main pros to a wall bed is its high-quality materials and construction. Unlike futons, murphy wall beds come with high-quality mattresses and constructed pull out options that make it sturdy and longer lasting overall.
On top of this, another pro to the murphy wall bed are the many outer appearances of the wall bed stand. Unlike futons that can only serve as a couch, some wall beds, such as sofa wall beds, not only come equipped with beautiful and comfortable sofas but also have storage space and shelving so as to function as a great centerpiece to any room in your house. This also makes them a great choice for studio apartments and dorms rooms as they are modern, multifunctional, and comfortable as well.
The main cons to the wall bed are its cost and weight. Because of the quality associated with murphy wall beds, many of these beds are more expensive than the ladder futon options out there.
However, the quality and longevity alone make this purchase rather cost-effective and, with many options now coming equipped with lighting as well as TV slots, the space this product saves and the furniture it eliminates is pretty remarkable.
The other con to this product is its weight. Unlike the rather light and easy-to-move futons, the wall bed is a rather heavy and involved product to assemble. However, with local installation companies all over the country, this process may be easier than you think.
In the end, the futon may be cheaper, lighter, and easier to set up yourself but its poor material choices, uncomfortable bedding, and possible long-term negative health effects make it an option that only the bargain hunting shopper should go after. After all, although the murphy bed is heavy and more expensive, its quality, comfort, and long-lasting materials make it the stand-out modern bed option for anyone and everyone not afraid to opt in for quality over low prices when buying. For more information about wall beds and how they may be the right option for you, be sure to check out the Breda Beds blog today!